Detroit Vegan Soul- Reviewing an Amazing and Tasty Local Find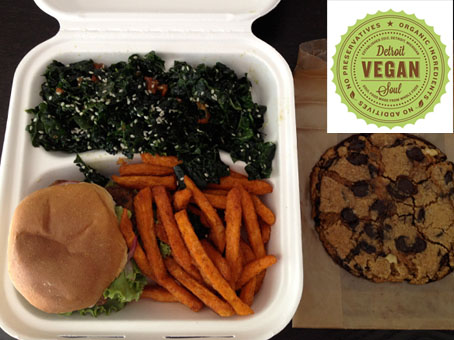 I have always liked sharing new local discoveries when I stumble upon them. Especially local vegan food. Recently through some social network I lose track at which-I heard about Detroit Vegan Soul. I had vegan soul food last when in Atlanta but I just can't justify the trip every time my stomach craves it.
Right now Detroit Vegan Soul does not have a store-front. You order online and they deliver to various neighborhoods in Detroit or you can arrange a pickup. I live outside Detroit in the burbs so I went to get pickup mine.
Each day (M-F) they have a different item or two you can order as well as some sweets and tea. Today was Tempeh Tuesday :
Smothered Tempeh with Sweet Corn Mashed Potatoes and Green Beans
-OR-
Breaded Tempeh Sandwich topped w/lettuce, tomato, and avocado served with Kale Salad and Yam Fries
I went with the Breaded Tempeh Sandwich. Good choice! I never had breaded tempeh before and was thoroughly pleased. The Kale Salad was amazing and it's no doubt I'd have greens every day if I could cook them like that. To finish it off I had a Carob Chip Cookie. At this point I almost struggle to keep typing because I am stuffed but my belly is happy.
To sum it up: Try it this week! The woman who got my order together was very nice, ordering online was super easy and you get your money's worth. All meals are just $12 per plate. They ask that you place orders at least 24 hours in advance or by 10 am to ensure availability.
Here's their website: http://detroitvegansoul.com/
They are also in a contest to win money from Hatch Detroit sponsored by Chase bank. If they get selected they will get money needed to open a storefront in Detroit. With the increase in vegan restaurant options you can find in Detroit it would be awesome to see them added to the list.
https://www.facebook.com/DetroitVeganSoul/posts/449435071758021